Trusted, Quality HVAC Equipment
Home is where you should feel the most comfortable, so installing quality equipment is vital. At Popa Heating & Cooling, we only use the most trusted brands in HVAC equipment, ensuring you have the most reliable heating and cooling system and best indoor air quality. We service all makes and models of HVAC equipment, but exclusively sell Trane, Mitsubishi, Aerus, and Aprilaire branded products.
Why Buy a Trane?
Popa Heating & Cooling is proud to be classified as a Distinguished Dealer of Trane products since 2012. We trust the brand because, as an industry leader in heating and cooling products, everything is tested to ensure it runs and is built to last. Each piece of Trane equipment is made with exclusive energy-saving innovations to provide you with the best in comfort and savings.
Trane has been recognized as America's Most Trusted™ HVAC Brand® and HVAC System® five years in a row by Lifestory Research. This is a third-party endorsement based on the best reviews and trust ratings directly from consumers.
As a company, Trane boasts over 120 years of experience, building efficient products that work when they're supposed to, have a long lifespan, and create the ideal home environment. To find the right Trane product for your home, view their full Product Guide.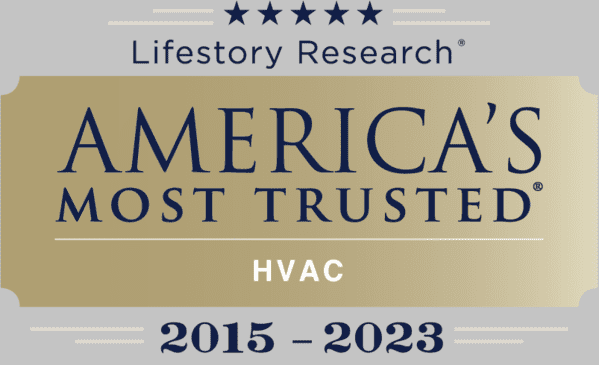 Purify Your Home with the Air Scrubber by Aerus
From germs and viruses like the flu during winter, to pesky allergens in the spring and everything in between, you undoubtedly want to keep them out of your home. With the Air Scrubber by Aerus featuring ActivePure® Technology, now you can!
The Air Scrubber goes beyond traditional air purification – you'll enjoy its ability to eliminate stale odors and reduce dust, but testing by Kansas State University has shown that it also eliminates contaminants in the air and on the surfaces of your home. The Air Scrubber by Aerus with ActivePure® Technology attaches directly to your HVAC system's ductwork to remove air pollution, VOCs, surface contaminants, pet dander, odors, and dust, leaving you with a cleaner, healthier, and more efficient home.
ActivePure® is the only Certified Space Technology created in cooperation with NASA to protect the health of the astronauts on board the International Space Station.
Improve Your Indoor Air Quality
Along with the Air Scrubber by Aerus, we also offer other great ways to improve your indoor air quality, including humidifiers, dehumidifiers, and ventilation from Aprilaire.
Bringing moisture in with a humidifier when the air in your home is dry helps with health, comfort, and home preservation. Humidifiers can reduce respiratory infections, allergy and asthma symptoms, and the overall formation of bacteria, viruses, fungi, and dust. The right humidity in your home can also help protect wood floors, cabinetry, and other items that may become warped, cracked or damaged from dry air.
On the other hand, dehumidifiers can help during the warmer seasons when there's too much moisture in the air. Aprilaire dehumidifiers can protect home furnishings and other things in your home from warping, mildew, and rot. They are also able to reduce the growth of mold and mildew, and add comfort to your home by getting rid of the sticky feeling and musty smell from humid air.
Adding in home ventilation is also a great way to improve your indoor air quality. Ventilation removes particles and pollutants from your home, reducing mold, bacteria, pollen, and VOCs. It also helps reduce the humidity in your home to keep you comfortable year round. The system works by bringing in fresh air while pushing out the polluted air from the home.
Let Popa Install Your Quality Heating & Cooling Equipment
When you're ready to improve your indoor air quality, or replace and upgrade your current heating and cooling equipment, choose Popa Heating & Cooling. Our expert technicians will get the job done right, ensuring your home is comfortable all year long. Contact us today!
"When I first set out to find a contractor that would entertain the possibility of a heat pump to replace an aging upstairs closet gas furnace, these guys stood out for a few reasons. They weren't scared of the work. They had the right attitude and enthusiasm for the job and I can tell they enjoy what they do and getting it right. They were able to brainstorm and come up with solutions for a challenging installation in an old house. The end result was a brand new 1.5 ton Mitsubishi ducted heat pump. They cleaned up the closet nicely, creating a custom stand for the air handler and improved the installation by cutting in an additional return grille.
No more hearing the burners kick on and the loud single speed blower. It's such an improvement over what we had and impressive to see how far heat pumps have come in the last decade or so. The system is in constant communication with the outdoor inverter compressor to operate efficiently and unbelievably quiet.
Thanks Matt and Jesse and all the others who made it happen."
[/db_pb_slide]
"John & Chris were on time, very professional and did a good job. They cleaned up when the job was finished. I would recommend using Popa."
[/db_pb_slide]
"Great local company! Very responsive and timely! The tech they sent out was Faith Daniels who was very knowledgeable and her work was impeccable! She took the time to answer my questions and the whole experience was top notch. Blower squirrel cage and hard wired condensate pump replaced. Thank you Popa Heating & Cooling!"
[/db_pb_slide]
"TJ and Faith were right on time. Completed the repair promptly. I was quite pleased with the agreed upon pricing. They were very respectful of our home (shoe covers) and of their words. Will certainly call on Popa again if we ever need HVAC services."
[/db_pb_slide]
"Matt was great. I have had Popa out at least 5 times since I have lived here and they are wonderful. The staff that helps on the phone is always nice and very helpful. The technicians are always very friendly, patient with all my questions and on time. I am so glad Popa is right here in Highland and we are supporting our local business!"
[/db_pb_slide]
"Had a great experience with Popa Heating and Cooling. I had a new furnace and central air installed. Brandon and William were awesome. They were super friendly, arrived on time, explained what they would be doing and left no mess behind. I would recommend Popa to anyone needing HVAC work!"
[/db_pb_slide]
[/db_pb_slider]